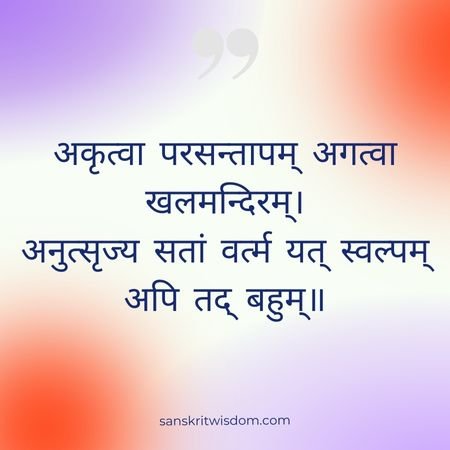 अकृत्वा परसन्तापम् अगत्वा खलमन्दिरम्।
अकृत्वा परसन्तापम् अगत्वा खलमन्दिरम्।
अनुत्सृज्य सतां वर्त्म यत् स्वल्पम् अपि तद् बहुम्॥
akṛtvā parasantāpam agatvā khalamandiram।
anutsṛjya satāṃ vartma yat svalpam api tad bahum॥
Don't behave in a way that others feel bad or hurt, This can be done by not visiting bad people and following the ways of pious people. One should be content with whatever they can achieve.
दूसरे को दुःख होगा ऐसा ना करके, दुष्ट लोगों के घर नहीं जा के, सज्जन लोगों का मार्ग नहीं छोड़के, जो कुछ साध्य कर सकते हैं, वही बहुत हैं।
Learn about the famous subhashita तृणं खादति केदारे जलं पिबति पल्वले with its Hindi and English meaning.