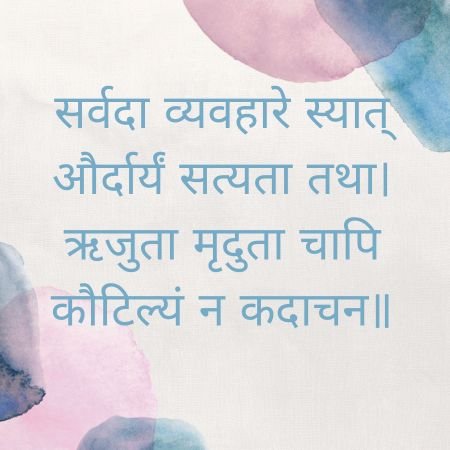 सर्वदा व्यवहारे स्यात् और्दार्यं सत्यता तथा
सर्वदा व्यवहारे स्यात् और्दार्यं सत्यता तथा।
ऋजुता मृदुता चापि कौटिल्यं न कदाचन॥
sarvadā vyavahāre syāt aurdāryaṃ satyatā tathā।
ṛjutā mṛdutā cāpi kauṭilyaṃ na kadācana॥
Generosity, honesty, simplicity and softness (kindness) should always be in a person's behaviour. Wickedness should never be there in anybody's behaviour.
मनुष्य के व्यवहार में हमेशा उदारता, सच्चाई, सरलता और मधुरता होनी चाहिए। कभी कुटिलता नहीं होनी चाहिए।
Learn about the famous subhashita तृणं खादति केदारे जलं पिबति पल्वले with its Hindi and English meaning.