Short Sanskrit Essay on India
Video of Short Essay on India in Sanskrit
Interested learners can watch the below given video for correct Sanskrit pronunciation after they are done reading and understanding the short essay on India / Bharat.
भारतदेशः इति विषये संस्कृतभाषायां लघुनिबन्धः।
भारतम् अस्माकं देशः अस्ति।
भारतं जगति सप्तमः विशालतमः देशः अस्ति।
प्राचीनकाले भरतः इति नामकः पराक्रमी राजा आसीत्।
तस्य नाम्नः एव अस्माकं देशस्य नाम जातम् – भारतम्।
भारतस्य उत्तरदिशि हिमालयपर्वताः विराजन्ते दक्षिणदिशि च हिन्दमहासागरः वर्तते।
पूर्वदिशि बङ्गोपसागरः पश्चिमदिशि च अरबसागरः स्तः।
भारतराष्ट्रे पवित्राः नद्यः वहन्ति, यथा – गङ्गा, यमुना, आदिनद्यः।
भारतस्य प्राकृतिकसौन्दर्यम् अपि बहुदर्शनीयम् अस्ति।
भाषासु, वेशेषु, धर्मेषु च भारते 'विविधतायाम् एकता' सदैव वर्तते।
भारतदेशः एकं महत् राष्ट्रम् अस्ति।
bhāratadeśaḥ iti viṣaye saṃskṛtabhāṣāyāṃ laghunibandhaḥ।
bhāratam asmākaṃ deśaḥ asti।
bhārataṃ jagati saptamaḥ viśālatamaḥ deśaḥ asti।
prācīnakāle bharataḥ iti nāmakaḥ parākramī rājā āsīt।
tasya nāmnaḥ eva asmākaṃ deśasya nāma jātam – bhāratam।
bhāratasya uttaradiśi himālayaparvatāḥ virājante dakṣiṇadiśi ca hindamahāsāgaraḥ vartate।
pūrvadiśi baṅgopasāgaraḥ paścimadiśi ca arabasāgaraḥ staḥ।
bhāratarāṣṭre pavitrāḥ nadyaḥ vahanti, yathā – gaṅgā, yamunā, ādinadyaḥ।
bhāratasya prākṛtikasaundaryam api bahudarśanīyam asti।
bhāṣāsu, veśeṣu, dharmeṣu ca bhārate 'vividhatāyām ekatā' sadaiva vartate।
bhāratadeśaḥ ekaṃ mahat rāṣṭram asti।
Bharat is our country.
Bharat is the seventh largest country in the world.
Bharata was a valorous king during the ancient times.
It is from his name that our country's name was derived – Bharat.
In the north of Bharat, the Himalayan mountains are situated, and the Indian Ocean lies to the south of Bharat.
In the east, there is the Bay of Bengal and the Arabian Sea lies to the west.
Many holy rivers flow through Bharat, like the Ganga, the Yamuna, etc.
The nature of Bharat is also quite beautiful.
The principle of 'Unity in DIversity' can be experienced in the linguistic, clothing and religious cultures of India.
Bharat is a great country.
भारत देश पर संस्कृत में लघुनिबंध।
भारत हमारा देश है।
भारत जग में सातवाँ सबसे विशाल देश है।
प्राचीन काल में भरत नाम के एक पराक्रमी राजा थे।
हमारे देश का नाम उन्हीं के नाम पर रखा गया है।
भारत के उत्तर में हिमालय पर्वत विराजमान हैं और हिंद महासागर भारत के दक्षिण में स्थित है।
पूर्व में बंगाल की खाड़ी और पश्चिम में अरब सागर हैं।
भारत में अनेक पवित्र नदियाँ बहती हैं, जैसे – गंगा, यमुना आदि।
भारत में प्राकृतिक सौंदर्य भी बहुत दर्शनीय है।
हमारे देश में भाषाओं, वेशों और धर्मों में 'विविधता में एकता' सदैव रहती है।
भारत एक महान राष्ट्र है।
Other Interesting Sections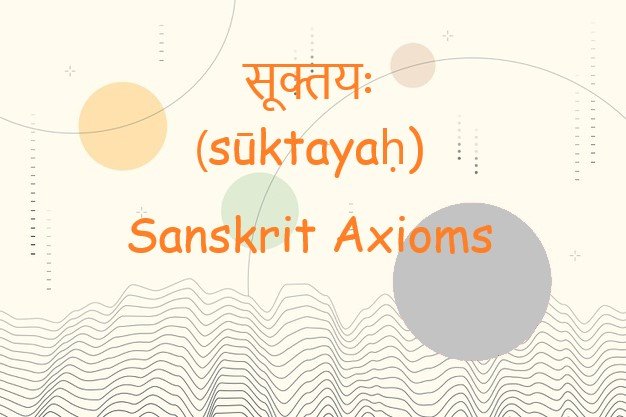 Learn about Sanskrit Axioms which is a statement or proposition which is regarded as being established, accepted, or self-evidently true.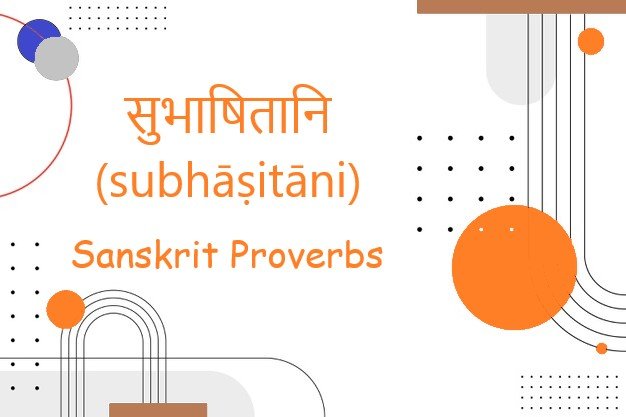 Learn about Sanskrit Proverbs which are a short, well-known saying, stating a general truth or piece of advice.
Learn about Shloka or shlokas in Sanskrit which consists of four padas of 8 syllables each, or of two half-verses of 16 syllables each.