Sanskrit Axioms on Virtues
A person's destiny improves when they work relentlessly.
चलनेवाले का भाग्य चलता है।
It is difficult to change the nature of a person.
Good character adorns clan's image.
शील कुल को विभूषित करता है।
We can learn good things even from a child.
बालक से भी अच्छी बात (सुभाषित) ग्रहण करनी (सीखनी) चाहिए।
शरीरमाद्यं खलु धर्मसाधनम्।
śarīramādyaṃ khalu dharmasādhanam।
Body is the means of fulfilment of dharma (for all good deeds).
शरीर धर्म-पालन का पहला साधन है।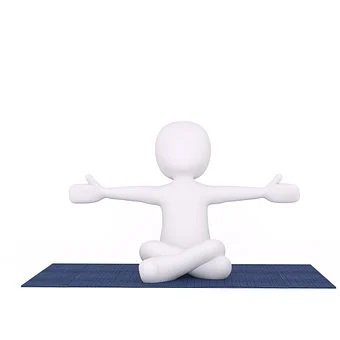 Nāsti satya samaṃ sukham।
There is no happiness like speaking the truth.
सच बोलने से बड़ा सुख कोई नहीं है।
Education makes one humble.
विद्या नम्रता प्रदान करती है।
Greed is the root cause of all sins.
A lazy person is never respected.
मेहनत न करने वाले को आदर नहीं मिलता।
सर्वभूतेषु वर्तितव्यं यथा आत्मनि।
Sarvabhūteṣu vartitavyaṃ yathā ātmani।
Behave with others the way you expect them to behave with you.
सबसे वैसा व्यवहार करो जैसा अपने लिए चाहते हो।
Greed destroys intelligence.
लोभ विवेक का नाश करता है।
अलङ्कारो हि क्षमा सर्वभूतानाम्।
Alaṅkāro hi kṣamā sarvabhūtānām।
Forgiveness is the greatest ornament.
क्षमा ही सभी प्राणियों का आभूषण है।
अलङ्कारो हि नारीणां क्षमा तु पुरुषस्य वा।
Alaṅkāro hi nārīṇāṃ kṣamā tu puruṣasya vā।
Forgiveness is the best ornament of Humans.
स्त्री हो या पुरुष सब के लिए क्षमा अलंकार है।
उदारचरितानां तु वसुधैव कुटुम्बकम्।
Udāracaritānāṃ tu vasudhaiva kuṭumbakam।
Generous people believe that the world is one family.
उदार मन के व्यक्ति को सारा जग अपना कुटुंब लगता है।
मनोरथानाम् अगतिः न विद्यते।
Manorathānām agatiḥ na vidyate।
इच्छाओं की कोई सीमा नहीं होती।
Hardworking people are peaceful and happy.
प्रयत्नशील व्यक्ति सुख पाता है।
Na annodakaṃ samaṃ dānam।
Food and water are the greatest donations.
अन्न और जल से बड़ा कोई दान नहीं।
Donation is the ornament of a hand.
There is no end to greed.
तृष्णा का कोई अन्त नहीं है।
परिश्रमस्य फलं मधुरं भवति।
Pariśramasya phalaṃ madhuraṃ bhavati।
The end result of hard work is sweet.
परिश्रम का फल मीठा होता है।
उद्योगसम्पन्नं समुपैति लक्ष्मीः।
Udyogasampannaṃ samupaiti lakṣmīḥ।
Money comes to a person who is skilled.
उद्योगसंपन्न मानव के पास लक्ष्मी आती है।
A reason for sin is Greed.
A person's life is ruined if he/she procrastinates.
कार्य में अनावश्यक विलंब करनेवाले / करनेवाली का विनाश होता है।
Good character is the best ornament.
Other Interesting Sections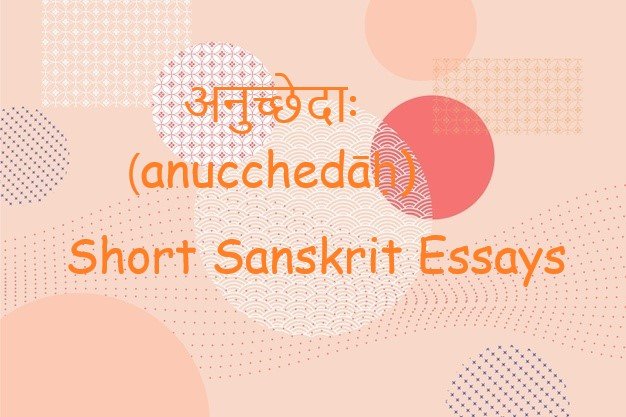 Learn about Sanskrit essays which are a piece of content written from the perception of the writer which are long or short, formal or informal, biography or autobiography etc.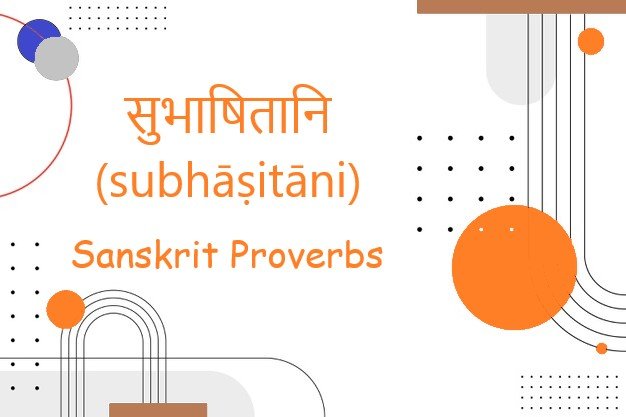 Learn about Sanskrit Proverbs which are a short, well-known saying, stating a general truth or piece of advice.
Learn about Shloka or shlokas in Sanskrit which consists of four padas of 8 syllables each, or of two half-verses of 16 syllables each.