Essay on River in Sanskrit
नदी इति विषये संस्कृते निबन्धः।
नदी मनुष्येभ्यः अतीव महत्त्वपूर्णा। नदी पर्यावरणस्य महत्त्वपूर्णम् अङ्गम् अस्ति। नद्याः मनुष्यसमाजाय यत् योगदानम् अस्ति, तत् अमाप्यम्। नद्याः अन्यानि नामानि अपि सन्ति। यथा – सरित्, तटिनी, आदिनामानि।
नदी पर्वतात् उद्भवति, अतः सा 'गिरिकन्या' इत्यपि कथ्यते। नद्याः जलं विपुलम् अस्ति। नद्याः जलस्य कारणात् क्षेत्राणि सस्यपूर्णानि भवन्ति। वयम् एतत् एव धान्यं खादामः। नद्याः जलप्रवाहेण जलविद्युतः यन्त्रालये विद्युदुत्पादनं भवति। नद्यां बहवः जलचराः वसन्ति। यथा – मत्स्याः, कूर्माः, मकराः, आदिजीवानि। 
नद्याः तीरे अपि महत्त्वपूर्णे स्तः। तत्र पादपाः रोहन्ति, पुष्पाणि विकसन्ति, पशवः चरन्ति (यथा – धेनवः) च​। यदा नदी वहति, तदा सा बहुभ्यः जीवेभ्यः जीवनदानं करोति। मरुस्थलेषु, यत्र एका अपि नदी न वर्तते, तत्र जीवनं बहु कठिनम्।
नदीनां तीरेषु बहवः तीर्थक्षेत्राणि भवन्ति। यथा – वाराणसी, हृषिकेशः, आदीनि। भारते नद्याः जलं पवित्रं मन्यते। यदि पवित्र्याः नद्याः जले स्नानं कृतं, तर्हि सर्वपापनाशः भवति।
सुभाषितकारेण सत्यम् एव उक्तम् – परोपकाराय वहन्ति नद्यः।
nadī iti viṣaye saṃskṛte nibandhaḥ।
nadī manuṣyebhyaḥ atīva mahattvapūrṇā। nadī paryāvaraṇasya mahattvapūrṇam aṅgam asti। nadyāḥ manuṣyasamājāya yat yogadānam asti, tat amāpyam। nadyāḥ anyāni nāmāni api santi। yathā – sarit, taṭinī, ādināmāni।
nadī parvatāt udbhavati, ataḥ sā 'girikanyā' ityapi kathyate। nadyāḥ jalaṃ vipulam asti। nadyāḥ jalasya kāraṇāt kṣetrāṇi sasyapūrṇāni bhavanti। vayam etat eva dhānyaṃ khādāmaḥ। nadyāḥ jalapravāheṇa jalavidyutaḥ yantrālaye vidyudutpādanaṃ bhavati। nadyāṃ bahavaḥ jalacarāḥ vasanti। yathā – matsyāḥ, kūrmāḥ, makarāḥ, ādijīvāni।
nadyāḥ tīre api mahattvapūrṇe staḥ। tatra pādapāḥ rohanti, puṣpāṇi vikasanti, paśavaḥ caranti (yathā – dhenavaḥ) ca​। yadā nadī vahati, tadā sā bahubhyaḥ jīvebhyaḥ jīvanadānaṃ karoti। marusthaleṣu, yatra ekā api nadī na vartate, tatra jīvanaṃ bahu kaṭhinam।
nadīnāṃ tīreṣu bahavaḥ tīrthakṣetrāṇi bhavanti। yathā – vārāṇasī, hṛṣikeśaḥ, ādīni। bhārate nadyāḥ jalaṃ pavitraṃ manyate। yadi pavitryāḥ nadyāḥ jale snānaṃ kṛtaṃ, tarhi sarvapāpanāśaḥ bhavati।
subhāṣitakāreṇa satyam eva uktam – paropakārāya vahanti nadyaḥ।
Rivers are very important for humans. A river is a very important component of the environment. The contribution of rivers towards human society is immeasurable. Rivers have other names too. E.g. – Sarit, Tatini, etc.
A river's source is in a mountain, that is why a river is also known as 'Girikanya' or 'Daughter of the Mountain'. There is plentiful water in the river. Fields become full of crops because of a river's water. Then, it is that food only that we eat. A river's flow helps to produce electricity in hydroelectricity plants. Many aquatic animals live in rivers. E.g. – Fish, turtles, etc. 
The banks of a river are also important. Plants grow there, flowers bloom and many animals also graze there (E.g. – Cows). Whenever a river flows, it gives life to many living beings. In deserts, where there are no rivers, life is very difficult.
There are many holy sites located on the banks of rivers. E.g. – Varanasi, Hrishikesh, etc. In India, rivers are considered to be holy. If somebody bathes in the holy river, then all sins are forgiven and washed away.
A Subhashitakara (Poet who makes subhashitas) once truly said – Rivers flow for the benefit of others.
नदी मनुषयों के लिए अतीव महत्त्वपूर्ण है। नदी पर्यावरण का एक महत्त्वपूर्ण अङ्ग है। नदी का मनुष्यसमाज के लिए जो योगदान है, वह अमाप्य है। नदी के अन्य नाम भी हैं। जैसे – सरित्, तटिनी, आदि।
नदी पर्वत से शुरू होती है, इसलिए वह 'गिरिकन्या' यह भी कहलाती है। नदी का जल विपुल है। नदी के जल के कारण खेत फसलों से पूर्ण हो जाते हैं। हम यही धान्य खाते हैं। नदी के जलप्रवाह से जलविद्युत यन्त्रालय में विद्युत उत्पादन होता है। नदी में बहुत जलजीव रहते हैं। जैसे – मछलियाँ, कछुए, मकर, आदि। 
नदी के तीर भी महत्त्वपूर्ण हैं। वहाँ पौधें उगते हैं, फूल खिलते हैं और पशु चरते हैं (जैसे – गोमाता)। जब नदी बहती है, तब वह बहुत जीवों के लिए जीवनदान करती है। रेगिस्तान में, जहाँ एक भी नदी नहीं होती, वहाँ जीवन बहुत कठिन होता है।
नदीओं के तीर पर बहुत तीर्थक्षेत्र होते हैं। जैसे – वाराणसी, हृषिकेश, आदि। भारत में नदी का जल पवित्र माना जाता है। यदि पवित्र नदी के जल में स्नान किया जाए, फिर सारे पापों का नाश होता है।
एक सुभाषितकार ने सत्य ही कहा है – परोपकार के लिए नदियाँ बहती हैं।
Other Interesting Sections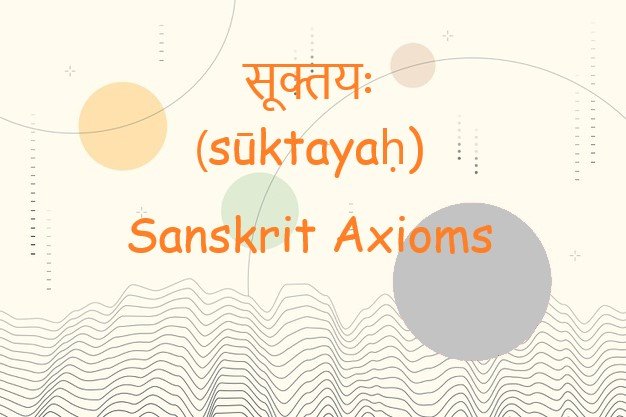 Learn about Sanskrit Axioms which is a statement or proposition which is regarded as being established, accepted, or self-evidently true.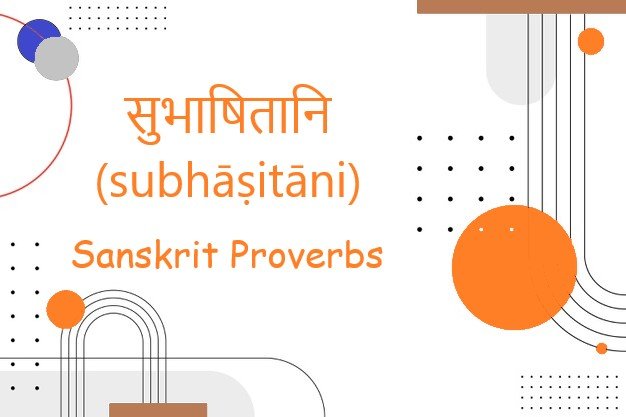 Learn about Sanskrit Proverbs which are a short, well-known saying, stating a general truth or piece of advice.
Learn about Shloka or shlokas in Sanskrit which consists of four padas of 8 syllables each, or of two half-verses of 16 syllables each.