Essay on Importance of Exercise in Sanskrit
व्यायामस्य महत्त्वम् इति विषये संस्कृते निबन्धः।
व्यायामः जीवनस्य महत्त्वपूर्णः भागः अस्ति। स्वस्थे शरीरे एव स्वस्थः आत्मा निवसति।
व्यायामस्य बहवः लाभाः सन्ति।व्यायामः स्वास्थ्यलाभाय अनिवार्यः अस्ति। व्ययामेन क्षुधा वर्धते। अन्नस्य पचनं व्यायामेन शीघ्रं भवति। व्यायामेन शरीरस्य कार्यक्षमता वर्धते। शरीरे रक्तसञ्चरणं समुचितरूपेण भवति। कार्यकरणाय उत्साहः जायते। अतः उत्तमस्वास्थ्याय मनुष्येण प्रतिदिनं व्यायामः करणीयः।
व्यायामेन मनुष्यः चपलः भवति। मनुष्यः बलवान् भवति। व्यायामेन शरीरं निरामयं भवति। यः व्यायामं न करोति, सः व्याधिग्रस्तः भवति। व्यायामं कृत्वा मनः प्रसन्नं भवति।
नित्यं व्यायामं कृत्वा, मनुष्यः दीर्घायुषी भवति। व्यायामस्य अनेके प्रकाराः। यथा – सूर्यनमस्काराः, योगासनानि, क्रीडाः च​। सत्यमेव उक्तं- शरीरमाद्यं खलु धर्मसाधनम्।
प्रतिदिनं व्यायामं कृत्वा एकाग्रता वर्धते। अनेन छात्राणाम् अभ्यासे क्षमता वर्धते। अस्मिन् जगति स्वास्थ्यं सर्वोत्तमं सुखम् अस्ति।
व्यायामात् लभते स्वास्थ्यं दीर्घायुष्यं बलं सुखम्।
आरोग्यं परमं भाग्यं स्वास्थ्यं सर्वार्थसाधनम्॥
vyāyāmasya mahattvam iti viṣaye saṃskṛte nibandhaḥ।
vyāyāmaḥ jīvanasya mahattvapūrṇaḥ bhāgaḥ asti। svasthe śarīre eva svasthaḥ ātmā nivasati।
vyāyāmasya bahavaḥ lābhāḥ santi।vyāyāmaḥ svāsthyalābhāya anivāryaḥ asti। vyayāmena kṣudhā vardhate। annasya pacanaṃ vyāyāmena śīghraṃ bhavati। vyāyāmena śarīrasya kāryakṣamatā vardhate। śarīre raktasañcaraṇaṃ samucitarūpeṇa bhavati। kāryakaraṇāya utsāhaḥ jāyate। ataḥ uttamasvāsthyāya manuṣyeṇa pratidinaṃ vyāyāmaḥ karaṇīyaḥ।
vyāyāmena manuṣyaḥ capalaḥ bhavati। manuṣyaḥ balavān bhavati। vyāyāmena śarīraṃ nirāmayaṃ bhavati। yaḥ vyāyāmaṃ na karoti, saḥ vyādhigrastaḥ bhavati। vyāyāmaṃ kṛtvā manaḥ prasannaṃ bhavati।
nityaṃ vyāyāmaṃ kṛtvā, manuṣyaḥ dīrghāyuṣī bhavati। vyāyāmasya aneke prakārāḥ। yathā – sūryanamaskārāḥ, yogāsanāni, krīḍāḥ ca​। satyameva uktaṃ- śarīramādyaṃ khalu dharmasādhanam।
pratidinaṃ vyāyāmaṃ kṛtvā ekāgratā vardhate। anena chātrāṇām abhyāse kṣamatā vardhate। asmin jagati svāsthyaṃ sarvottamaṃ sukham asti।
vyāyāmāt labhate svāsthyaṃ dīrghāyuṣyaṃ balaṃ sukham।
ārogyaṃ paramaṃ bhāgyaṃ svāsthyaṃ sarvārthasādhanam॥
Essay on Importance of Exercise
Exercise is an important part of our lives. A healthy soul lives only in a healthy body.
Exercise has many benefits. Exercise is essential for good health. Doing exercise increases our appetite.
The digestion of food is quickened because of exercise. Exercise helps increase the working capacity of the body. Blood circulation in the body happens properly. Enthusiasm for work also increases. That is why a person should exercise daily.
A person becomes nimble by doing exercise. His/her strength increases. The body becomes healthy by doing exercise. The people who do not exercise are at risk of diseases. We feel happy and fresh after doing exercise.
By doing exercise regularly, the lifespan can be extended. There are many types of exercise e.g. – Surya Namaskaras, Yoga Asanas and sports. It is truly said – The body is the main medium fulfilling one's Dharma.
By doing exercise regularly, the focus is increased. This helps students perform better in studies. There is no greater happiness in this world than to have good health.
Good health, a long life, strength and happiness are achieved by exercise. Good health is the greatest blessing. Everything can be achieved with good health.
व्यायाम का महत्त्व पर निबंध।
व्यायाम जीवन का महत्त्वपूर्ण भाग है। स्वस्थ शरीर में ही स्वस्थ आत्मा का वास होता है।
व्यायाम के बहुत लाभ हैं। व्यायाम स्वास्थ्यलाभ के लिए अनिवार्य है। व्यायाम से भूख बढ़ती है। अन्न का पाचन व्यायाम से शीघ्र होता है। व्यायाम से शरीर की कार्यक्षमता बढ़ती है। शरीर में रक्त सञ्चरण उचित रूप से होता है। कार्य करने के लिए उत्साह बढ़ता है। इसलिए उत्तम स्वास्थ्य के लिए मनुष्य ने प्रतिदिन व्यायाम करना चाहिए।
व्यायाम से मनुष्य चपल होता है। मनुष्य बलवान होता है।
व्यायाम से शरीर निरामय होता है। जो व्यायाम नहीं करता, वह रोग से ग्रस्त हो जाता है। व्यायाम करके मन प्रसन्न होता है।
नित्य व्यायाम करके, मनुष्य दीर्घायुषी होता है। व्यायाम के अनेक प्रकार हैं। जैसे – सूर्यनमस्कार, योगासन और खेल। सत्य ही कहा गया है – शरीर ही धर्म पालने का साधन है।
प्रतिदिन व्यायाम करने से एकाग्रता बढ़ती है। इससे छात्रों के अभ्यास क्षमता बढ़ती है। इस जग में स्वास्थ्य ही सर्वोत्तम सुख है।
व्यायाम से स्वास्थ्य, लंबी आयु, बल और सुख प्राप्त होते हैं। आरोग्यपूर्ण जीवन (निरोगी होना) परम भाग्य है। स्वास्थ्य से सभी कार्य साध्य होते हैं।
Other Interesting Sections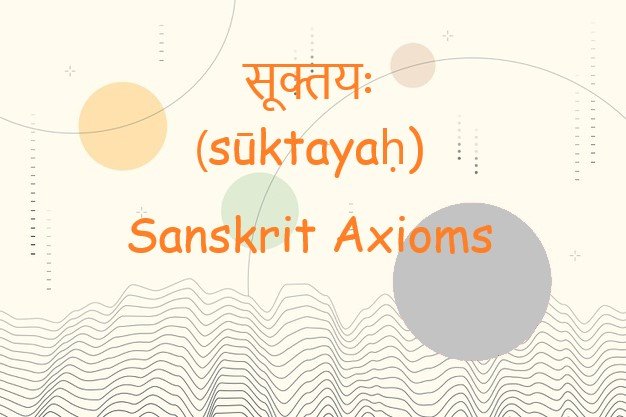 Learn about Sanskrit Axioms which is a statement or proposition which is regarded as being established, accepted, or self-evidently true.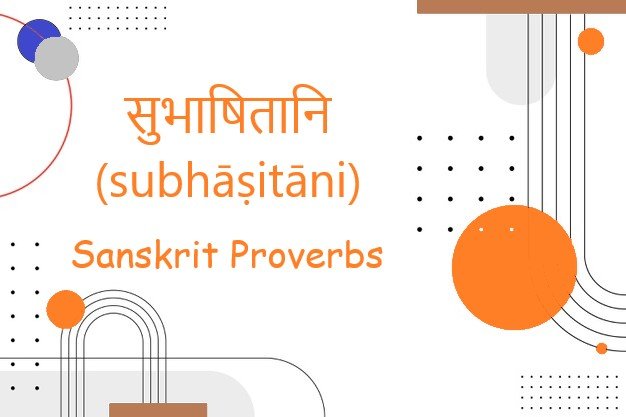 Learn about Sanskrit Proverbs which are a short, well-known saying, stating a general truth or piece of advice.
Learn about Shloka or shlokas in Sanskrit which consists of four padas of 8 syllables each, or of two half-verses of 16 syllables each.