Essay on Shri Krishna in Sanskrit
श्रीकृष्णः विष्णुदेवस्य अष्टमः अवतारः आसीत्। सः वसुदेवस्य देवक्याः च पुत्रः। सः सान्दीपनि मुनेः शिष्यः। श्रीकृष्णाय दुग्धं, दधि नवनीतं च अतीव रोचते स्म। सः बालकाल्यात् एव पराक्रमी आसीत्। तस्य पराक्रमस्य अद्भूतानि कार्याणि प्रसिद्धानि सन्ति। कुरुक्षेत्र-युद्धे सः पाण्डवैः सह आसीत्। सः अर्जुनस्य सारथिः अभवत्। कुरुक्षेत्र-युद्धे सः अर्जुनं भगवद्गीतां अकथयत्। सर्वगुणसम्पन्नः श्रीकृष्णः सर्वेषाम् आदर्शः अस्ति। श्रीकृष्णः 'पूर्णपुरुषः' इति मन्यते।
śrīkṛṣṇaḥ viṣṇudevasya aṣṭamaḥ avatāraḥ āsīt। saḥ vasudevasya devakyāḥ ca putraḥ। saḥ sāndīpani muneḥ śiṣyaḥ। śrīkṛṣṇāya dugdhaṃ, dadhi navanītaṃ ca atīva rocate sma। saḥ bālakālyāt eva parākramī āsīt। tasya parākramasya adbhūtāni kāryāṇi prasiddhāni santi। kurukṣetra-yuddhe saḥ pāṇḍavaiḥ saha āsīt। saḥ arjunasya sārathiḥ abhavat। kurukṣetra-yuddhe saḥ arjunaṃ bhagavadgītāṃ akathayat। sarvaguṇasampannaḥ śrīkṛṣṇaḥ sarveṣām ādarśaḥ asti। śrīkṛṣṇaḥ 'pūrṇapuruṣaḥ' iti manyate।
Lord Shri Krishna is the eighth Avatar of Lord Vishnu. He was the son of Vasudeo and Devki.He was the disciple of sage Sandipani. Lord Shri Krishna used to like milk and butter very much. He was very brave from childhood. His great deeds and victories are quite famous. In the Kurukshetra war, he guided the Pandavas. He was the charriator of Arjuna. In the Kurikshetra war, he imparted the knowledge of Bhagavad Geeta to Arjuna. Virtuous Lord Shri Krishna is a model for everyone. Lord Shri Krishna is considered to be the ideal human.
श्रीकृष्ण विष्णुदेव का आँठवा अवतार है। वसुदेव देवकी के ये पुत्र। सान्दीपनि ऋषी के ये शिष्य। श्रीकृष्ण को दूध और नवनीत बहुत पसंद थे। वे बाल्यकाल से ही पराक्रमी थे। उनके अद्भुत पराक्रम के कार्य प्रसिद्ध हैं। कुरुश्रेत्र युद्ध में वे पांडवों के साथ थे। वे अर्जुन के सारथी थे। कुरुश्रेत्र युद्ध में उन्होंने अर्जुन को भगवद्गीता का ज्ञान दिया। सर्वगुणसंपन्न श्रीकृष्ण सबके आदर्श है। श्रीकृष्ण 'पूर्णपुरुष' माने जाते है।
Other Interesting Sections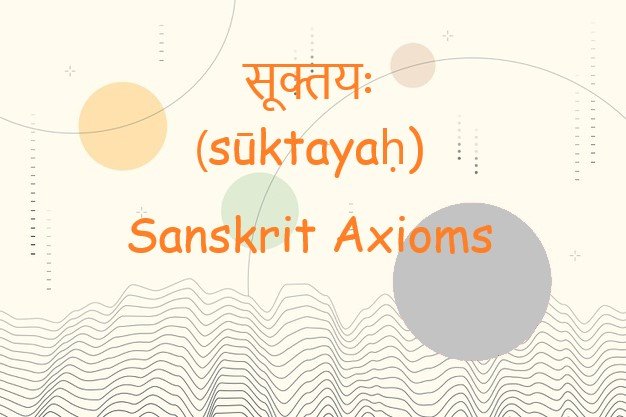 Learn about Sanskrit Axioms which is a statement or proposition which is regarded as being established, accepted, or self-evidently true.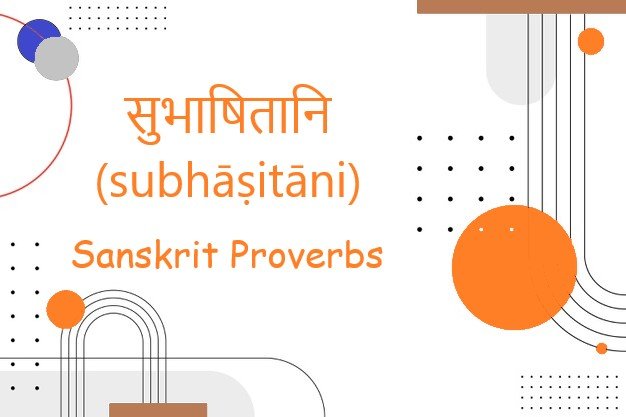 Learn about Sanskrit Proverbs which are a short, well-known saying, stating a general truth or piece of advice.
Learn about Shloka or shlokas in Sanskrit which consists of four padas of 8 syllables each, or of two half-verses of 16 syllables each.