Short Essay on Indian National Flag in Sanskrit
Video of Essay on Indian National Flag in Sanskrit
त्रिवर्णः ध्वजः इति विषये संस्कृते लघुनिबन्धः।
भारतदेशस्य राष्ट्रध्वजः त्रिवर्णध्वजः अस्ति।
ध्वजे त्रयः वर्णाः दृश्यन्ते – केशरवर्णः, श्वेतवर्णः हरितवर्णः च।
केशरवर्णः शौर्यं त्यागं च सम्बोधयति।
श्वेतवर्णः शान्तेः सत्यस्य च प्रतीकम्।
हरितवर्णः समृद्धिसूचकः पर्यावरणसूचकः च अस्ति।
ध्वजस्य मध्यभागे अशोकचक्रं वर्तते।
इदं चक्रं नीलवर्णं भवति।
सारनाथस्य अशोकस्तम्भात् गृहीतम् एतत् अशोकचक्रं न्यायस्वरूपम् अस्ति।
त्रिवर्णस्य ध्वजस्य आकारः सदैव आयतसमकोणाकारः अस्ति।
अस्माकं त्रिवर्णः ध्वजः भारतदेशस्य स्वाधीनतायाः प्रतीकम् अस्ति।
trivarṇaḥ dhvajaḥ iti viṣaye saṃskṛte laghunibandhaḥ।
bhāratadeśasya rāṣṭradhvajaḥ trivarṇadhvajaḥ asti।
dhvaje trayaḥ varṇāḥ dṛśyante – keśaravarṇaḥ, śvetavarṇaḥ haritavarṇaḥ ca।
keśaravarṇaḥ śauryaṃ tyāgaṃ ca sambodhayati।
śvetavarṇaḥ śānteḥ satyasya ca pratīkam।
haritavarṇaḥ samṛddhisūcakaḥ paryāvaraṇasūcakaḥ ca asti।
dhvajasya madhyabhāge aśokacakraṃ vartate।
idaṃ cakraṃ nīlavarṇaṃ bhavati।
sāranāthasya aśokastambhāt gṛhītam etat aśokacakraṃ nyāyasvarūpam asti।
trivarṇasya dhvajasya ākāraḥ sadaiva āyatasamakoṇākāraḥ asti।
asmākaṃ trivarṇaḥ dhvajaḥ bhāratadeśasya svādhīnatāyāḥ pratīkam asti।
Short Essay on Indian National Flag
The national flag of India is the tricolour.
Three colours are included in the national flag – saffron, white and green.
Saffron symbolises courage and sacrifice.
White is a symbol for peace and truth.
Green represents prosperity and the environment.
The Ashoka Chakra is situated in the centre of the flag.
This Chakra (wheel) is blue in colour.
This symbol taken from the Ashoka Pillar in Sarnath, is a representation of justice.
The tricolour flag is always rectangular in shape.
Our tricolour flag is a symbol of India's freedom and independence.
भारत का राष्ट्रीय ध्वज तिरंगा है।
राष्ट्रीय ध्वज में तीन रंग होते हैं- केसरिया, सफेद और हरा।
केसरिया साहस और त्याग का प्रतीक है।
सफेद शांति और सच्चाई का प्रतीक है।
हरा रंग समृद्धि और पर्यावरण का प्रतीक है।
अशोक चक्र ध्वज के मध्य में स्थित है।
यह चक्र नीले रंग का है।
सारनाथ में अशोक स्तंभ से लिया गया यह प्रतीक न्याय का प्रतिनिधित्व करता है।
तिरंगे का आकार हमेशा आयताकार होता है।
हमारा तिरंगा झंडा भारत की आजादी और स्वतंत्रता का प्रतीक है।
Other Interesting Sections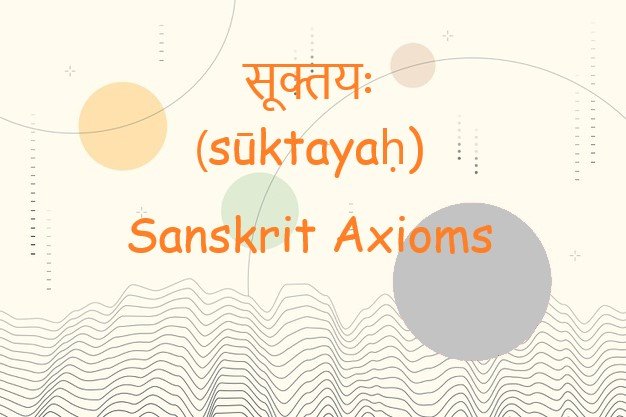 Learn about Sanskrit Axioms which is a statement or proposition which is regarded as being established, accepted, or self-evidently true.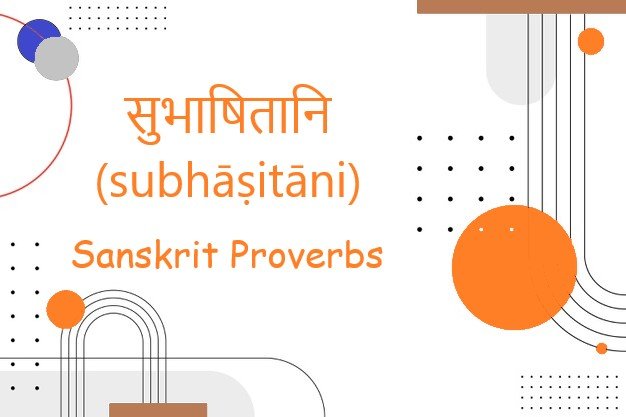 Learn about Sanskrit Proverbs which are a short, well-known saying, stating a general truth or piece of advice.
Learn about Shloka or shlokas in Sanskrit which consists of four padas of 8 syllables each, or of two half-verses of 16 syllables each.